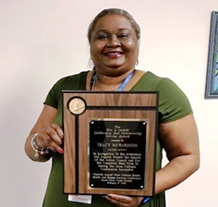 Tracy Richardson, an IPS Supervisor from South Carolina, recently received the Corbitt Leadership award.
The Action Council for Cross Cultural Mental Health and Human Services awarded Tracy Richardson the Otis A. Corbitt Leadership & Community Service Award. The Action Council presented the award at the Annual Cross Cultural Conference in Myrtle Beach, South Carolina, on February 16, 2018. Sponsored by the Action Council, the conference aims to provide information, education, and skills based on outreach studies, social practices, and models for best practices.
The Action Council recognized Richardson's years of dedication along with her commitment to ensuring the delivery of culturally competent services throughout the state of South Carolina, as well as her "unyielding support to the Cross Cultural Conference."
Tracy Richardson is a Community Services Manager at the Anderson-Oconee-Pickens Community Mental Health Center. Her job consists of many duties, including IPS Supervisor.
Congratulations, Tracy!
Thank you to Demetrius Henderson for sharing this story with us. We love to hear from IPS programs from around the country and the world. If you would like to submit an entry for our blog, please contact us!