Browse the collection of training and educational videos and videos of personal stories.
Role of Case Workers, Housing Specialists, and Mental Health Workers in Supporting Young Adults in IPS
A training webinar, given by Sarah Swanson of the IPS Employment Center, to discuss the benefits of IPS programs for young adults.
Using Individual Placement & Support to Assist Job Seekers and Workers with Mental Health Conditions
This webinar, courtesy of Social Policy Research Associates and the LEAD Center, will offer an introduction to IPS and explore the role of the workforce system in its implementation.
IPS and Martha's Place
Courtesy of the Alabama Department of Mental Health (ADMH), in partnership with the Alabama Department of Rehabilitation Services (ADRS) and community mental health centers.
Introduction to Supported Employment
Working people discuss their experiences with IPS
Work and Recovery Through IPS
Alameda County IPS Supported Employment
IPS Specialist Job Preview
North Central Health Care's video showing what being an IPS Specialist is like.
Wellness Benefits of an Exit Plan
Peggy Swarbrick's presentation from the 2018 International IPS Learning Community Annual Meeting
Family Advocates for IPS Webinar
How to include family members in the employment plan. We would appreciate your feedback so that we can design better webinars for you in the future. Use this link to answer our short, anonymous, survey.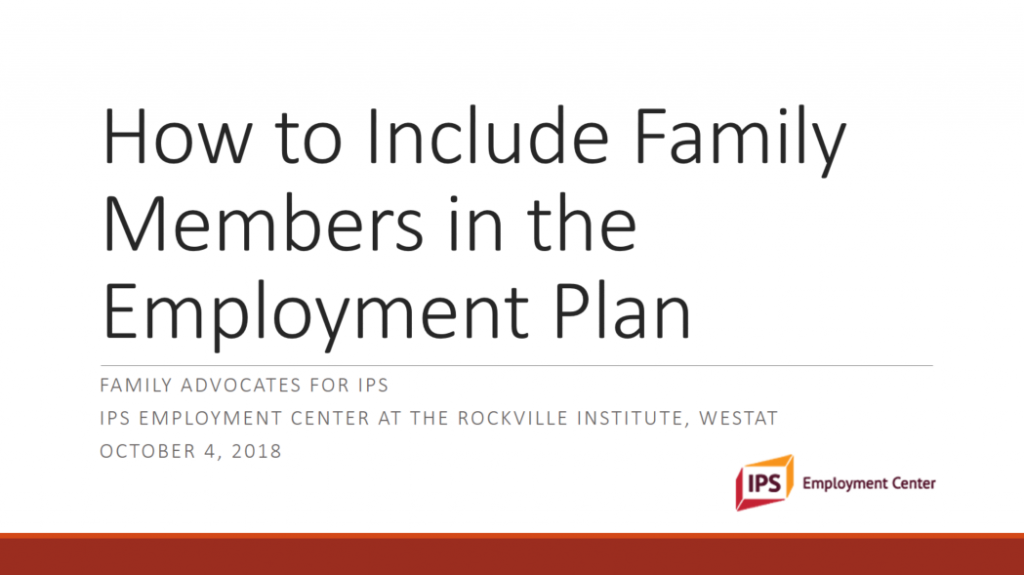 De Kracht Van Betaald Werk
Video from our Dutch colleagues in which an employee, IPS worker, and employer share their stories
It's My Business
Employers describe their experiences with IPS
3 Faces, 3 Lives
Working people share their experiences
Job Development
Demonstration of an IPS specialist meeting with employers
Jeanne's Recovery through Employment
In this first-person account of returning to work, Jeanne describes how employment helped her recover from substance abuse problems.
Vocational Rehabilitation Discussion Group
Vocational Rehabilitation counselors and supervisors discuss how they work with IPS programs
A Discussion on Benefits and Employment
What to Consider When Making Decisions about Benefits and Employment
Tennessee IPS Story
Tennessee's Department of Mental Health and Substance Abuse Services shared this story of John's success working with IPS